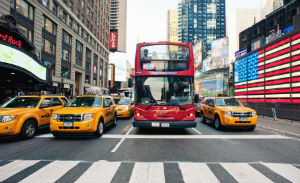 Travel Tips To New York
New York City, or "The Big Apple" as people like to prefer to it, is the perfect vacation spot to hit this summer. It is a place where dreams are born, and a place where one finds and sometimes loses his or her sanity. The city offers a variety of entertainment in the form of music, dancing, sightseeing, or just hanging out with the locals.
Playtime In The Concrete Jungle
The city is huge, so here are a few pointers to help get that vacation on the road.
Write down all the exciting events to see in New York. Having an idea of what to do, and what to see, can alleviate stress, and make the trip more enjoyable.
Create an itinerary. Plan days and nights carefully. Include fun, entertainment, and relaxation. Leave a few hours open for spur of the moment plans like walking or jogging, or visiting a new club or restaurant.
Get a map of New York to help locate hard to find places. More time spent having fun, and less time looking for fun. Getting lost in a big city like New York is definitely not fun.
Book travel arrangements early; as hotels seem to fill up quickly. Securing a place to stay is one less stress to worry about. Book online, or with a travel agent. Opt for discounts, if saving money is an issue.
Traveling to New York is a great learning experience for first time travelers, students, or future actors. It is also the best city to spend holidays and honeymoons, but mostly it is the best place to enjoy a different kind hustle from the hassles of everyday life, back home.