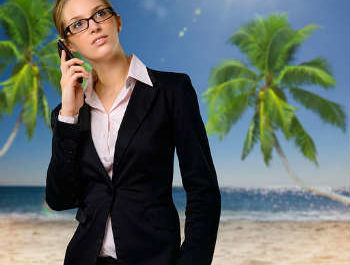 The Transformation Of Business Travel Over The Years
Telecommunications has made the world a smaller place. It's easier now more than ever to communicate with someone halfway across the globe, yet despite this, we are seeing an increase in the number of business travelers and it's transforming the way travel and hospitality industries are doing business. Ira Riklis explores how business travel has transformed over the years.
Millennial Generation Changing Business Travel
The millennial generation is producing more business owners and entrepreneurs than previous generations. This has led in part, to an increase in business travel. It has prompted airlines to pay attention and deliver the goods and services that matter the most to the young business travelers such as, free Wi-Fi and increased technological amenities.
Technology in the face of constant connectivity allows the business traveler, millennial in particular, to keep up with things at home while out on business. Telecommunications permits you have a video conference with a client in China, but it also allows you to have a video conference at home while visiting China on business. It works both ways in favor of the business traveler. Research suggests that Millennials do not dread business travel as much as previous generations and, they are more willing to mix business and pleasure while out traveling. This gives an incentive for them to travel more and meet clients and possible business partners face-to-face.
Proof That Traveling For Business Is Changing
A recent report released by the Global Business Travel Association (GBTA) Foundation and the American Express Global Business Travel (GBT) tells a positive story for the U.S. Economy. The report details how the business traveler has contributed nearly three percent to the country's Gross Domestic Product (GDP) in 2016.
The study, dubbed The U.S. Business Travel Economic Impact Report, revealed business travel was responsible for increasing size of the U.S. economy.
Three percent, an estimated $547 billion, of the country's gross domestic product (GDP) in 2016 went towards business travel.
Business travel adds jobs to the economy.
7.4 million jobs can be attributed to the business traveler.
In 2016, the industry generated $135 billion in federal, state, and local taxes.
The facts and figures just prove that the face-to-face business strategy is still worth something in this day of digitized communications. You can't always secure that client or close an important financial deal through video chat. Business travel is not a lost chore but a new marketable approach to doing business with the reliable handshake leading the way. Making connections that are real still means a lot to business owners, even the millennial.
Travel More, Spend Less
The business traveler in 2017 knows how to get a good deal. It's important to them and with transparent pricing and competition, buyers of goods and services, now more than ever, know how to secure the best prices.

The same report says that the average money spent for each employee traveling actually decreased despite the travel boom to the economy. The average cost of a business trip fell 2.2 percent. Competition is driving down the cost of goods and services because having business clients come back is worth more than overcharging them to come and stay or fly once.
Know More, Expect More
The reputation for a business lives online these days. Good or bad, you as a traveler can fully know what to expect if you do your research. Online reviews have led travelers to know before they go. This means that hotels, airlines, and other traveler resources are tested and vetted by you before you even arrive. That has put an increased pressure on the business to impress, knowing that their reputation is at greater stake than years before. Business Travelers are more likely to be repeat clients than the average vacation-goer and both parties know this.