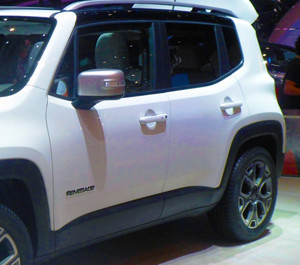 Review Of The 2015 Jeep Renegade
There are plenty of things about the 2015 Jeep Renegade that make it stand out in its class. But, part of the reason for that is the 2015 Jeep Renegade is a vehicle that practically invents a new class of car. It is one part SUV, one part compact, and one part off-road vehicle. That is a lot of parts to fit into a single vehicle. But despite the complicated smorgasbord of vehicle types that make up this car, it is actually a rather fetching vehicle that provides precisely the type of performance you would expect from something with the Jeep brand.
Yes It's A Jeep
At first glance, especially from the side, you might not even realize that this vehicle is a Jeep. The boxy exterior more resembles a Kia than a classic Jeep Cherokee. But a familiar grill, a wide base, a tall body, and traditional Jeep window design all fit the classic mold. And surprisingly, the slick curves transform what could have been a rather ugly body design into a remarkably eye-pleasing design.
More importantly, though, especially for a Jeep, form does not outweigh function in the 2015 Jeep Renegade. Like almost every other Jeep ever made before it, this is still a remarkable off-road vehicle. A four wheel drive system, called Active Drive Low, powers this vehicle over almost any terrain, while 8.7″ of clearance allows you to safely transverse obstacles like rocks, logs, and lower river beds. Furthermore, front and rear tow hooks can help you escape if you do try to push this vehicle beyond its limits, or maybe just help out someone else who has gotten trapped while off-road driving.
Interiors Above The Rest
All of these features are great, but don't really stand out among vehicles with the Jeep brand. What sets this vehicle apart from its brethren, and helps it to practically define a class, are the interior features. The 2015 Jeep Renegade is almost as much luxury sedan or SUV as it is off-road vehicle. It has 18 cubic feet of storage, or 50 cubic feet with the rear seats down. A UConnect interface gives you touch screen access to navigation, hands-free phone calls, Bluetooth streamed audio, and safety systems like lane departure warning, parking sensors, and a blind spot warning system. This is truly an impressive load out for any vehicle, and truly impressive on a vehicle that offers both unparalleled off-road ability and a better than 30 mile per gallon fuel efficiency at the same time. The 2015 Jeep Renegade is truly in a class of its own.