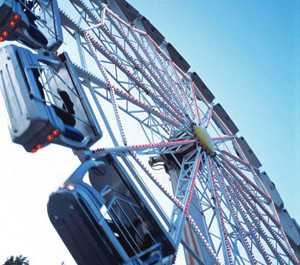 Things To Do At The Luna Park Tel Aviv
Are you looking for a cool place where you can take your family or your better half for a treat? You need not look any further. Luna Park, in Tel Aviv Israel is located in a quiet environment ideal for your kids and yourself. It's away from the metropolitan town, and you can get to enjoy a moment of peace with your loved ones. Luna Park is the place for you to have fun no matter your age group. Check out the fun things you can do at Luna Park below.
Top 5 Things To Do At The Luna Park
Rides for Children
Luna Park is well equipped with a variety of rides for kids of all ages. There are bumper cars, roller coasters, carousels, and ferries wheels that will greatly excite them. These rides have been engineered to fit just the right size of the rider. The rides are so many and in a variety for children who are a bit bigger hence no child in the family misses this great experience. Your child will receive a wristband indicating their height range then he or she will be allocated the ride that best fits them. They take safety seriously, so they ensure that the trips are safe and in good standard before kids can ride on them. Hence, your child is safe, and can enjoy the rides.  See the rides for children here.
Adult Rides
You will not just stand there and look at your child riding no! You can also join your kids but in a different ride that can accommodate your height. So your child is not the only one who will get to enjoy this awesome experience that is out of this world. Join them in the thrilling roller coasters and adult rides available. You will surely come back for more next time. Adult rides options here.
Dinner
After a day full of fun and enjoyment, you can later get to sit down for a family a nightly meal or a romantic dinner for two. You can wine and dine enjoying the relaxed environment with nature giving you an excellent view and breeze. You can either buy refreshments at the park or carry your own food and drinks.
Souvenir Store Lottery Pavilion
Are you a champ in snipe shooting or rifle shooting? Luna Park is the place for you. Come and give other shooters a run for their money. If you think ' lady luck' always smiles at you come and try your luck at the lottery pavilions, and you get a chance to take home some prizes. It could be a teddy bear that you can give to your daughter or even the jackpot electrical appliances.
Photo Studio
During these fun moments, you can have a photo shoot session. The Luna Park's green serenity can provide a well laid out background ideal for your photos. The environment and nature at Luna Park are well suited for photo shoots with no strong wind only a slight breeze to calm your nerves. Book a visit to Luna Park and you will surely have rocked your kid's world and also given yourself a treat that will be worth every cent that you will spend.