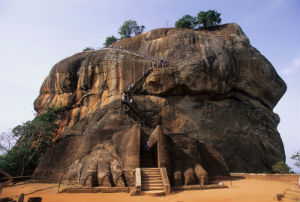 Travel To The Ancient Cities of Sri Lanka
When you are traveling abroad to the amazing ancient ruins of Sri Lanka there are so many places to see. Sri Lanka's beautiful landscape features gorgeous pristine beaches, Buddhist religious temples, past ancient monuments, and luxurious resorts. When you visit the area be sure to take in as many historical sites as you can.
Places To Go, Cities To Visit
Sigiriya Rock Fortress
The Sigiriya Rock Fortress was built in the 5th century by a notorious monarch ruler. This particular rock fortress shows how brilliant and advanced the ancients were in their knowledge of power engineering and construction work. The grey and terracotta rock forest stands 200 meters high. It is truly an impression sight to behold.
Numwara Eliya Tea Plantation and Factory
If you are a tea lover, you will love visiting the Nuwara Eliya Tea Plantation and Factory. See where Sri Lanka's tea is made, and witness the look and feel of a true old English town. This is the same plantation that gave birth to the first batch of Ceylon Tea. Green tea is popular all over the world, and now you can view dozens of green tea plantations, and see history at work.
Colomba Ancient Museum
If you want to learn more about Sri Lanka's history, just visit Sri Lanka's capital. Colomba is filled with museums that contains the most precious ancient relics. The largest museum is Sri Lanka National Museum. Here you will find ancient pieces that were left behind by 17th century Kandyan Kings.
Spend the Day Unwinding at Alankuda Beach
After all the fun and excitement of sightseeing comes to an end, you can take yourself to Alankuda Beach. See the whales and dolphins perform or take in wind surfing, snorkeling, swimming, kayaking, canoeing, or kite flying.
Don't Forget the Camera
These are just a few places in Sri Lanka you must see. There is fun and excitement around every corner. The nine national parks, and seven sanctuaries for birds are quite impressive. You can probably spot any of the 43 endangered species of land and sea mammals in the world, right here at Sri Lanka's national parks. If elephants excite you, visit the Yala National Park and witness a herd of elephants, some rare leopards of a variety of reptiles and birds.