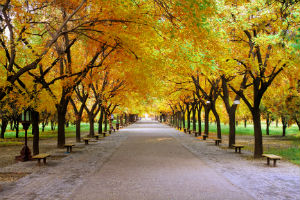 America's Best Cities For Fall Travel
The arrival of fall in America means the end of the peak tourist season and the turning of the leaves (see here for peak season travel information). Both of these annual changes present unique opportunities for travelers who wish to explore the nation's great cities. Lets take a look at some of America's best cities for fall travel.

Best Three Places To Visit In The Fall
Boston
There's no better place in America to enjoy the beautiful colors of the middle of autumn than New England and the region's biggest city, Boston. The ivy-covered, red brick buildings of the city look beautiful in the late day sun of the fall, and with most of the tourists gone, travelers will find that the city's Revolutionary War tours are less crowded. Fall harvests from the surrounding countryside also offer an opportunity to enjoy the city's best restaurants as they serve their freshest cuisine.
Las Vegas
An odd pick for Fall travel is Las Vegas! Las Vegas can be a difficult city to enjoy due to its changing climate that goes from cold in the winter to blistering hot in the summer. Travelers will find that the trick to enjoying Las Vegas is to hit it in the later months of fall, when the temperatures are much more bearable. The city already sports cheap hotel and air travel options, and these become even cheaper as the local tourist industries work harder to put together attractive package deals once the peak tourist season has ended.
Savannah

Savannah's relatively warm climate makes it an enjoyable destination to target in autumn. The city is home to plenty of old Southern architecture and also experiencing a noteworthy revitalization that has brought with it a hip atmosphere that many travelers will find to be a pleasant surprise. Savannah is considered one of the more walk-able cities in America, a bonus especially as fall colors take over the landscape. Go to http://www.fodors.com/ for a guide on Savannah fall travel.