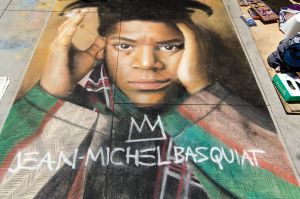 Artist Biogarphy: Jean Michel Basquiat
At the end of the volatile 1970s, a group of inspired, neo-expressionist graffiti artists set Manhattan's Lower East Side on fire by emblazoning the area with powerful paintings and drawings reflecting current sociocultural tensions. Identified by the graffiti tag SAMO© , these powerfully influential graphics were also accompanied by ironic, poetically worded phrases that eventually became synonymous with one member of the group–Jean-Michel Basquiat.
Born in 1960, Basquiat began exhibiting his primitivist works of art in museums and galleries internationally, gaining popularity with devotees of social commentary art and eventually developing a huge following due to his talent and ability to provide insight into the hypocrisy of institutional racism and the adverse effect class inequality and colonialism had on society.
Early Inspiration
When Basquiat was eight years old, he suffered a serious car accident and spent months recuperating from his injuries. To help him pass the time, his mother gave him a copy of Gray's Anatomy, the classic guide to human anatomy still used by medical students today. He later said that the pen-and-ink drawings heavily influenced his preference for creating graffiti unpolluted by artistic movements.
As a young teenager, Basquiat saw his mother committed to a mental asylum, leaving him mostly homeless, uprooted and sleeping on park benches. After dropping out of high school, he began attending an alternative high school called City-As-School, a place where artistically talented students unable to finish traditional high school could earn their degree.
Breakthrough in the 80s
After making numerous appearances on public-access TV shows in NYN and forming a noise-rock band called Test Pattern, Basquiat met and presented 60s iconic artist Andy Warhol with samples of his work. Later, the two collaborated on several projects which helped lead to Basquiat being the center of an article published in Artforum magazine called "The Radiant Child", which introduced Basquiat to the mainstream art world.
Irony of Negro Policeman (1981)
An exemplification of Basquiat's body of work is depiction of a black man as an enforcer of laws determined by Caucasian society. He described Irony of Negro Policeman as his way of examining the passiveness of African-Americans (even though Jim Crow laws had long been abolished) who continued to enforce dictums established by "white society". According to Basquiat, the black policeman in his painting may have had black skin but "wore a white mask".
Other Important Works of Art by Basquiat
Untitled (1982)
All Colored Cast Part III (1982)
Ashes (1981)
Fishing (1981)
Black Tar and Feathers (1982)
Portrait of the Artist as a Young Derelict (1982)
Flexible (1984)
(View all of Basquiat's works of art at WikiArt)
Final Years
Following Warhol's death in 1987, Basquiat increasingly isolated himself, becoming more depressed and heavily addicted to heroin. On August 12, 1988, Basquiat died of a heroin overdose while working in his Manhattan art studio. Basquiat was 27 years old at the time of his death.
In 2012, a 1981 Basquiat painting sold for $16.3 million at a Phillips de Pury & Company auction in NYC, $4 million above its estimated worth of $12 million.