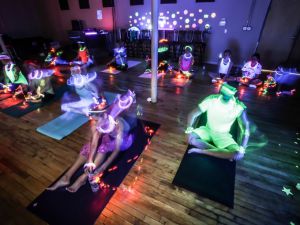 New Yoga Trends To Try Out
When it comes to yoga, it's not all about steamy gyms and boring music. Yoga trends continue to offer a wide variety of ways for individuals to get fit, toned, and warmed up without being bored in the process. For those who are looking for something interesting to add to their yoga workout, it may be time to incorporate any of these trends. Not only will you have fun, but you will still get the incredible workout benefits and whole-body care that yoga offers.
5 Must Try Yoga Moves
Why Not Try Glowga?
Yes, glowga is a real thing. It's actually glow in the dark yoga classes. You will be doing each of your favorite moves in neon clothing and accessories and under black lights. The combination not only helps to create a bit of interest, but it also offers a new way for you to find your inner balance. What's more, this type of yoga tends to also be rhythmic based. The music, movements, and lights all contribute to a different level of awareness, new challenges, and intense workouts. It's fun, but it is also very good for your body. External stimuli from the surroundings help to change internal communications. Read more about glowga here.
Yoga and Beer – They Go Hand in Hand!
After a long day at work, you used to have to choose between heading to the brewery for a few drinks or to a yoga class. Now, you do not have to choose. There are numerous breweries around the country offering a combination of sorts. These breweries allow you to take yoga classes right at their location. While there isn't necessarily a combination of high intensity yoga and drinking, you can easily meet some friends, enjoy a yoga class, and then hang around for a beer or two. Some locations are much larger than others, of course, but if you have a brewery nearby, find out if they are offering yoga classes.
Office Yoga?
As per the previous entry, work can get you stressed to the max. What if you were able to slip in a corporate yoga session or two? What many corporations are finding is that if they create a situation in which you are able to find stress relief and heal your body through holistic approaches like yoga, you are more likely to be productive and a long-term employee. Take a break from those meetings and enjoy a bit of yoga during your day. It's good for your posture, helps you to sustain energy longer, and aids in reducing risk factors associated with sedentary lifestyles.
Underwater Yoga Diving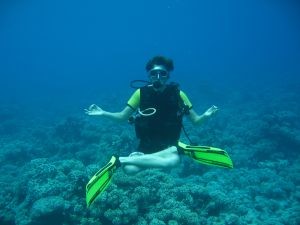 Let's do it all in the water. And, underwater yoga diving isn't just in the local recreation center's pool. Rather, you can travel to exotic locations and enjoy yoga while deep under the water. Yoga is growing in popularity like this in the Great Barrier Reef. It is also growing in popularity as an activity in Bali. What really helps yogis in this area is the ability to perform in virtual weightlessness. It creates a deeper experience than any above-water experience.
Use Your Technology For Your Good
It's All Tech
Of course you may already know you can find mediation apps and a variety of yoga apps on your smartphone. Look for tracking apps, instructional tools, and mediation music and mantras too. This allows individuals not only to practice yoga in a peaceful environment and in the proper manner, but it also creates a sense of mindfulness throughout your day's activities.
Any of these yoga trends can be worth investing in even if you are new to the art form. What's important is to find something that interests you so that you can benefit from these Blo yoga experiences.