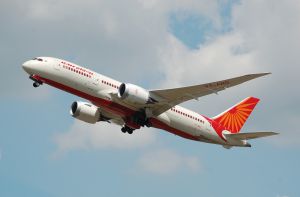 Air India Takes Well Being To New Heights With Yoga
In an overall program to enhance personal well-being, Narendra Modi, Prime Minister of India has introduced mandatory yoga sessions for employees of the State-run Air India. The Prime Minister addressed the decision in reference to the newly appropriated International Day of Yoga, June 21st, 2015. In a related statement May 28th, he encouraged the entire population, including people of "all walks of life" to adopt yoga as a daily activity.
Why Choose Yoga?
Yoga is widely thought to enhance personal control, providing a platform in which a person can gather his or her thoughts while gently working their physique. Yoga is similar to some martial arts, in that it includes physical and mental discipline. As an ancient Indian art, the exercise has been practiced for hundreds, perhaps thousands of years in the region. In recent decades it has blossomed in Western society.
While slightly different from martial arts such as Tai Chi, those who practice yoga often point to its health benefits. Gently contorting the body while calmly controlling breathing is said to allow the mind to find peace in a uniquely balanced frame of thought patterns. Indian yoga Masters have been known to perform remarkable feats of contortion, famously allowing themselves to be placed into small bags and boxes, then exiting in perfect condition.
Most practitioners of the discipline do not attempt those feats. Such potentially dangerous or even fatal acts are performed only by Masters who have spent their lives in expertly monitored yoga education and practice. Generally, the art consists of gently body movements, crossing the legs and other non-threatening positions that release tension and help stretch muscles, increasing blood flow and reducing Lactic acid buildup.
Air India Employees Under Yoga Training
Air India employees who are undergoing training programs will begin their yoga sessions at 6:30am each day. Modi, a long-time proponent of the ancient art hopes that yoga will become a daily exercise worldwide in the future. The International Day of Yoga is the first step toward realizing this vision. Other countries have similar practices for government facilities. Some Chinese prisoners are forced to participate in group dance sessions, while military facilities all over the world use morning exercise to keep their forces fit.
Yoga is unique as a physical exercise program. The art form is designed to produce change in the mind as much or more as the body. It is said to help calm people, allowing them to make better decisions. As a proven way of reducing stress, yoga can lower the pulse rate and reduce blood pressure.
Science & Yoga
Modern science has shown that yoga can stimulate neurotransmitters that help create a more balanced mood and even mild euphoria. This may have long-ranging effects, including a reduced need for addictive substances such as caffeine and nicotine.
Fatigue and stress can be dangerous components of airline flight and control for employees. These reductions, along with important physical and mental changes may help intensify focus and reduce stress-related illnesses. Modi said his administration has prepared numerous activities and events for International Day of Yoga.